2013-14 Artist Series
All events at First Lutheran Church of Boston, 299 Berkeley Street, Boston, MA 02116.
Map. Parking options. Public transportation: Green Line Copley or Arlington stations.
Season tickets are available!  Experience all of our amazing artists at discounted rates by visiting our online box office.
---
Vladimir Gorbach
Friday, October 4, 2013 – 7:30 PM
A winner of ten international guitar competitions, Vladimir Gorbach is one of the most accomplished and engaging performers of his generation.  He has appeared all over the world, including a fifty-concert tour sponsored by the Guitar Foundation of America.  He's a new faculty member at California State University (Fullerton) and the first International Artist Fellow in Music at the University of Southern California. The Saint Louis Dispatch writes: "As a musician, Gorbach is the complete package.  He showed himself to be a master of subtlety and delicacy, as well as the possessor of daunting technique and considerable charisma."
---
Marco Tamayo & Anabel Montesinos
Friday, November 22, 2013 – 7:30 PM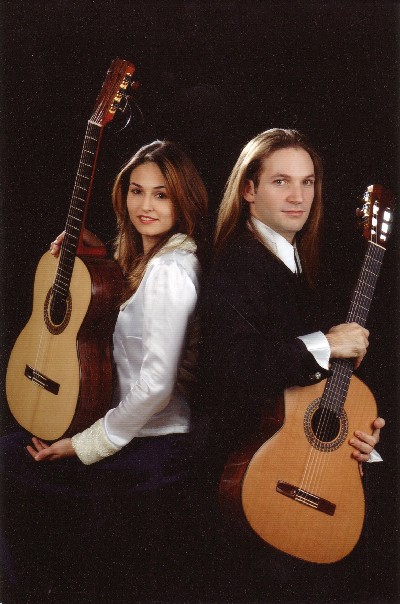 Marco Tamayo is a thrilling virtuoso equally celebrated for his competition wins, landmark international concert appearances, and expert teaching at the Mozarteum in Salzburg, Austria.  Born in Cuba, he studied with Leo Brouwer and Eliot Fisk. In 2006 Marco Tamayo received the "Cittadinanza Onoraria," or Honourable Citizen, of the city of Alessandria, Italy. He is the second guitarist, after Alirio Díaz to have received this honour. Marco Tamayo is a guitarist you have to see live to believe!
Spanish guitarist Anabel Montesinos emerged as a child prodigy and has since developed a globe-spanning career. She has recorded for radio and television in Spain, Poland, Italy, and Sweden, and her many triumphs in major international competitions led to her first recording with Naxos, a release acclaimed by the international press and chosen by British Airlines as a part of the inflight musical programme on overseas flights. Her signature sound blends soulful phrasing, gorgeous tone, and technical agility.
Marco and Anabel will perform solo works as well as duets.
---
Duo Melis
Valentine's Day – Friday, February 14, 2014 – 7:30 PM
Spanish guitarist Susana Prieto and Greek guitarist Alexis Muzurakis have been performing together since 1999.  They've won numerous prizes and presented acclaimed recitals throughout North America and Europe, including the OMNI series in San Francisco and the 2008 GFA Convention.  They've played under the baton of Leo Brouwer and with orchestras in Germany, Bulgaria, and Greece. Soundboard magazine noted, "their playing was technically superb, musically convincing, and demonstrated fantastic ensemble." Duo Melis' musical unity and tonal beauty are a shining standard for the guitar duo genre.
---
Manuel Barrueco
Friday, April 4, 2014 – 7:30 PM
Manuel Barrueco is one of the most highly acclaimed guitarists of our time.  His vast performing career includes appearances with many major orchestras, including the Boston Symphony Orchestra under the direction of Seiji Ozawa.  Manuel Barrueco has shared the stage with Al Di Meola, Steve Morse (Deep Purple), and Andy Summers (The Police).  He has recorded over a dozen albums for EMI, including the Aranjuez concerto with conductor/tenor Placido Domingo.  Manuel Barrueco received a Grammy nomination and several Latin Grammy nominations for his interpretations of works by Tarrega, Piazzolla, and Roberto Sierra. Manuel Barrueco has been featured on CBS Sunday Morning, Mister Rogers' Neighborhood, and even in a Lexus commercial.  Don't miss this rare chance to see him perform solo in Boston!
---
Roland Dyens & New England Guitar Ensembles Festival
Saturday, April 26, 2014 – 9 AM. Evening concert at 7:30 PM
Day Pass: $35; Evening Concert Tickets: $25 / 20 / 15
Supremely gifted as composer, arranger, interpreter, improviser, and professor, Roland Dyens finally returns to the BCGS stage.  His compositions are beloved by guitarists and audiences worldwide and showcase an effortless synthesis of classical, jazz, and folk styles.  In 2010, he was the only classical guitarist to be invited to participate in the Paris tribute concert to Django Reinhardt. In 2011, his recital at the International Córdoba Guitar Festival received the highest accolade of "Five Stars" from the Spanish Press, calling him "Roland Dyens, El Mago de la guitarra" (the Wizard of the Guitar).
Roland Dyens will appear as headlining artist for the 2014 New England Guitar Ensembles Festival, performing the evening concert, coaching participants, and composing a brand new piece for the event. The 2014 edition of NEGEF will offer workshops and concerts dedicated to guitar ensembles as well as the BCGS members concert and a guitar technique session.  Individuals (any playing level) and guitar ensembles are encouraged to sign up for a stimulating, challenging, friendly, and musically rewarding day!
For more details, please visit the Ensembles Festival page.
View the 2014 NEGEF page for pictures, program, and video.
---